Wednesday 02 Jul 2014

Snr Camogie - Summer League
Kilbrittain, (NOTE CHANGE)., 19:30PM
With ten minutes gone in this game, the home side were on top, but points from Claire Tyndal, Clair Sexton and Denise O'Sullivan, meant the scores were level. Eimear White anchored an experienced half back line, flanked by Karen McCarthy, (sorry I don't know your "new" name) and Eileen Carroll. Behind them, a young fullback line of cousins Lisa and Kate Dullea and Courtmac's Rebecca McCarthy were giving nothing away despite the early pressure. Indeed they conceded just 4 points in each half.
Barryroe hit the front on 12 minutes, when Claire Sexton pointed and in the next five minutes, a Síle Burns goal, and a point followed by a goal from Hannah Whelton, gave us a 2-5 to 3 points lead. Rachel Sheehy and Síle Burns tacked on two more scores, before the home side had their last score of the half. There was still time however, for another Clair Sexton point and for Hannah Whelton to collect her second goal of the night.
We were 3-08 to 4 points up at the break and just as in the first half, the home side were on top at the start of the second half. Our defence however, coughed up just two points during this time and then six unanswered points from Síle Burns, Denise O'Sullivan, Clair Sexton, a Geraldine Collins 45, Síle again and Carmel Griffin, saw us pull away, 3-14 to 6.
The home side added two further points, Síle Burns had a Barryroe point, before Denise O'Sullivan scored the goal she threatened all night.
A good result, but next Monday we travel to Éiro Óg for what is sure to be a tougher encounter.
Team
Maebhdh Sexton, Lisa Dullea, Kate Dullea and Rebecca McCarthy.
Karen McCarthy, Eimear White and Eileen Carroll.
Rachel Sheehy and Geraldine Collins.
Carmel Griffin, Síle Burns and Claire Sexton.
Denise O'Sullivan, Hannah Whelton and Clair Tyndal.
Subs used, Caroline McCarthy, Aisling Sheehy and Marie Clair Whelton.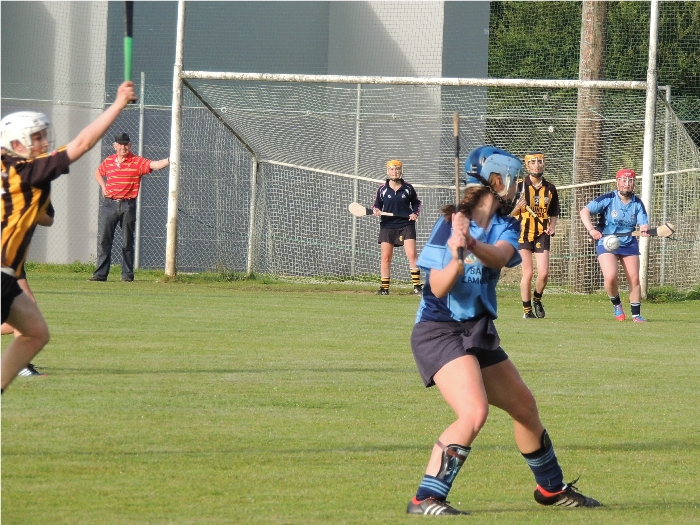 Claire strikes.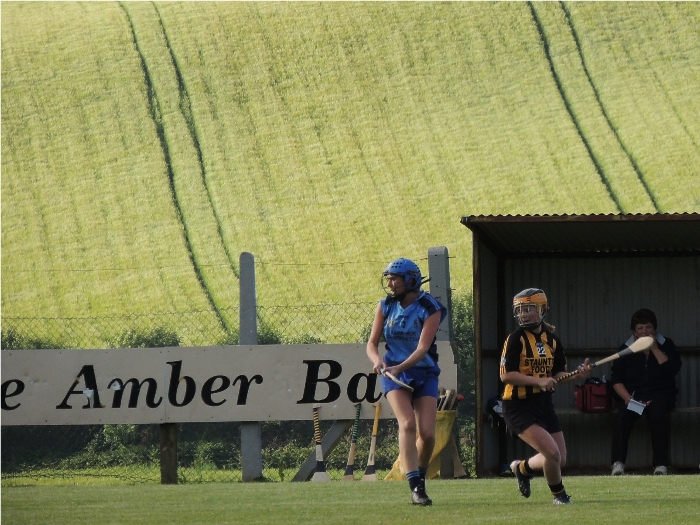 Eileen clears against a dramatic background.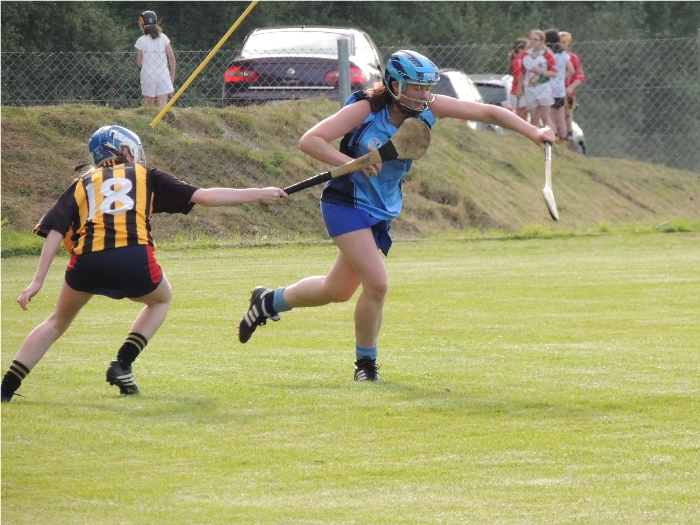 karen bursts clear.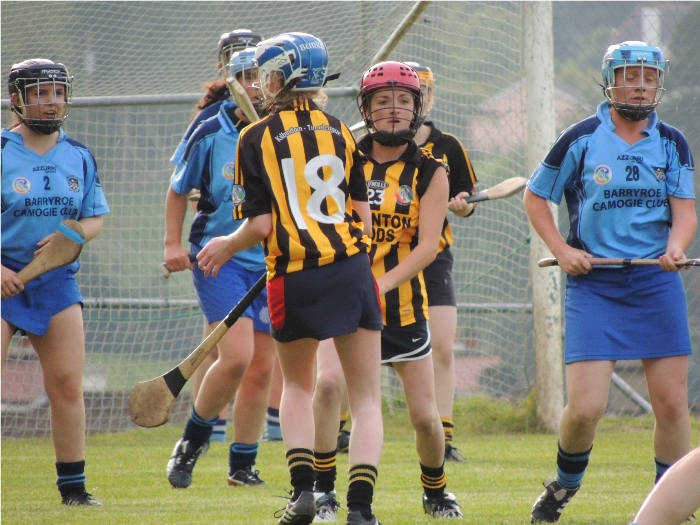 No way through. Geraldine seems to be grabbing 40 winks, while Lisa finds the whole thing amusing.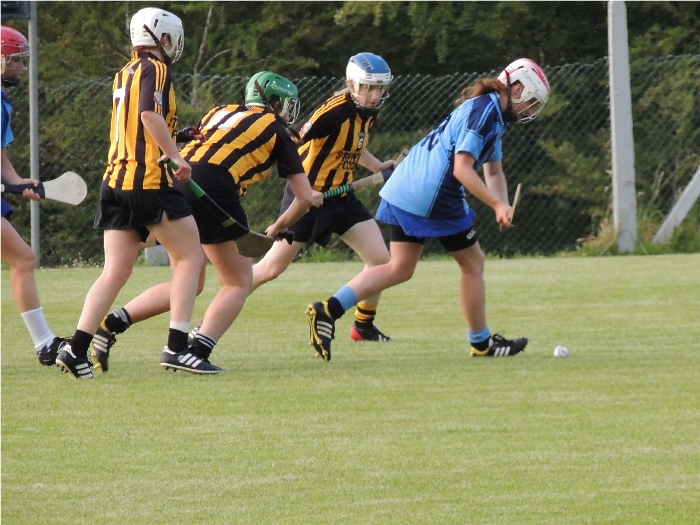 Three to one, no problem to Clair.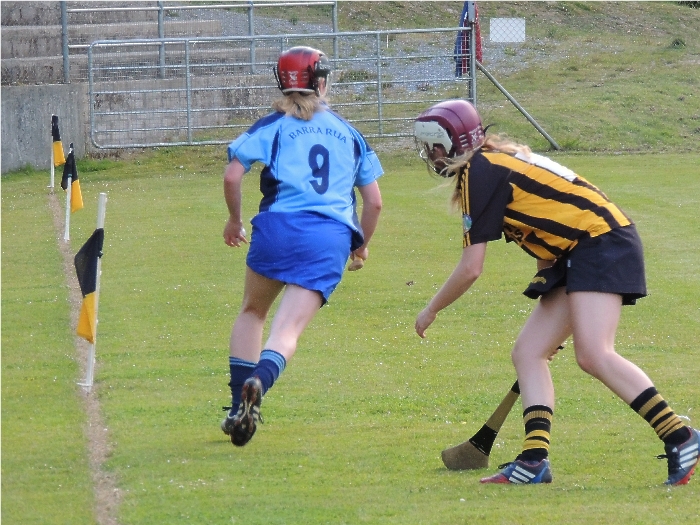 A side step and Síle is away.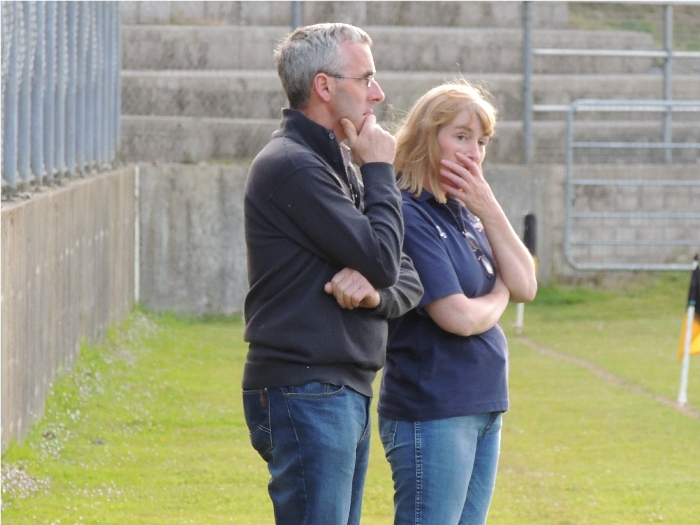 James and Sheila look worried.