Club Archives: U21s win 'B' Football C'ship
31 March, 2021
Barryroe pip Kilmac in thriller
Match Report 'West Cork Gael' Southern Star
Barryroe 2-07 Kilmacabea 1-09
Memories are made of this! We salute the magnificent Boys in Blue from the famed Barony of Ibane who arose Lazarus like from the dead to fashion a thrilling victory, albeit by the narrowest of margins, against plucky and luckless Kilmacabea after a truly marvellous hour's football, in this memorable South West Cork Under 21 B decider at sunny Rosscarbery on Saturday evening last. This mammoth match ebbed and flowed like the tide in the picturesque Rosscarbery bay nearby, as first one side, then the other assumed the mantle of leadership. Hard knocks were given and taken in a sporting fashion, balding pates became even barer as the pressure mounted and many refused to look as Karl McCarthy faced up to a '45 deep into injury time. His kick had the required distance but not the direction and sailed just wide of the left upright. From the kick-out Fachtna McCarthy of Dohenys who did a first class job as the match offical blew the final shrill of the whistle. The agony and the ecstasy was very much in evidence as the Barryroe players did a jig of delight, while the Kilmac lads dropped to the turf in utter despair.
Kilmac will have the bulk of this side eligible again in 2002 so all is not lost. Adrian O'Driscoll was a classy full-back while John O'Donovan as pivot worked hard in the centre of the defence. Diarmuid O'Donovan was a serious contender for Man of the Match, often up to lend a hand in attack. When the first time ball was the option for the losers in the opening quarter, Tommy Sheehan and Noel McCarthy were flying. John C. Keohane was their leading attacker, bursting inside the Barryroe cover and together with Karl McCarthy causing major problems for Barryroe. Eoin O'Donovan slotted home a cute goal, but Kevin Minihane who tried hard, will have nightmares about that last point that skimmed the crossbar.
The blue sky seems to be limit for this Barryroe team, who have enormous potential in depth. Damien O'Leary was fronted by a brilliant full-back division that saw a tigerish performance in the left corner from Bernard O'Brien. Tim Carroll and Kieran Griffin were outstanding flankers, as Jason Fleming marshalled his defensive trio in style. Adrian Fleming out of luck with his free-taking in the first half, floated over the one that really mattered in that tense finale and his strength allied to the high work rate of partner Kevin O'Donovan were vital components in this victory. Gearoid Whelton and Clive Cahalane covered every blade of grass in their search for glory, while John O'Regan played a captain's part constantly roaming forward in attack. Richard Murphy scored a first half beauty that would have done Robbie Keane proud and was a tireless forager. What can one say about the terrible twins of the attack, Denis Harrington and Aidan O'Mahony. Devasting around the goal area, they struck terror in the heart of the Kilmac defence each time they were on the ball and were two superstars of the winning show.
Despite playing against the stiff breeze, the losers got off to a whirlwind beginning. Tomas O'Leary, Karl McCarthy and a brace from John C. Keohane all swept Barryroe aside with ease as they fashioned an impressive four points lead inside six minutes. The large Kilmac following on the Hill went into raptures of delight two minutes later as John C. Keohane picked out Eoin O'Donovan who rattled the Barryroe net. 1-04 to nil and the winners on the rack, or so it appeared. But, Barryroe are made of stern stuff and slowly they hauled themselves off the floor. Adrian Fleming drew first blood after twelve minutes and then within the space of five minutes they stunned Kilmac with a two goal salvo. Clive Cahalane to the flying Aidan O'Mahony, a neat flick to Richard Murphy and from an impossible angle the Lislevane man shook the rigging. The good times had just begun as speed merchant Denis Harrington found Gearoid Whelton and cleverly spotting O'Mahony in complete isolation the towering Whelton placed the former for a cute second Barryroe major. A free by Adrian Fleming, followed by a point from Harrington and amazingly Barryroe had the hit the front and were two points to the good, 2-03 to 1-04. John C. Keohane added a well directed point as twelve scoreless minutes ensued to leave the interval score Barryroe 2-03 Kilmac 1-05.
Kevin Minihane with two close in frees and a Noel McCarthy point early in the second half had left Kilmac looking good as they still held the lead with twelve minutes of play on the clock. But it was now that Barryroe showed match winning potential. Harrington set up by Griffin shot over a superb score, quickly followed by another from Adrian Fleming just after Kevin McCarthy had made a wonder save from a point blank drive by Denis Harrington. Soon afterwards, Harrington worked himself free to shoot the point of the hour. With the Barryroe machine purring sweetly Adrian Fleming made no mistake as he converted a vital free. Kevin Minihane skimmed the bar as Barryroe held their breaths, but the Blues just did enough in the last frantic minutes of play.
Timmy Whooley, South West Board Chairman presented the trophy to an overjoyed Barryroe capatin John O'Regan at the conculsion of a grand sporting game, while Bill Harte and his crew had everything in apple pie order.
Referee, Fachtna McCarthy, Dohenys
Man of the Match, Denis Harrington, Barryroe
Barryroe: Damien O'Leary, John O'Leary, Brendan Coleman, Bernard O'Brien, Kieran Griffin, Jason Fleming, Timmy Carroll, Adrian Fleming 0-04 (0-03f), Kevin O'Donovan, John O'Regan, Denis Harrington 0-03, Clive Cahalane, Richard Murphy 1-00, Gearoid Whelton, Aidan O'Mahony 1-00. Subs: Eamonn McCarthy, Darren Whelton, Kieran O'Donovan, Joseph O'Leary, David Dineen, Michael O'Driscoll, Gerard Keohane, Gerard O'Leary [inj].
Kilmacabea: Kevin McCarthy, Liam Wolfe, Adrian O'Driscoll, Daniel Wolfe, Donie O'Donoghue, John O'Donovan, Diarmuid O'Donovan, Kevin Minihane 0-03 (0-02f), Tom Sheehan, Noel McCarthy 0-01, John C. Keohane 0-03, Karl McCarthy 0-01, Eoin O'Donovan 1-00, Tomas O'Leary 0-01. Subs: Niall O'Brien for Donie O'Donovan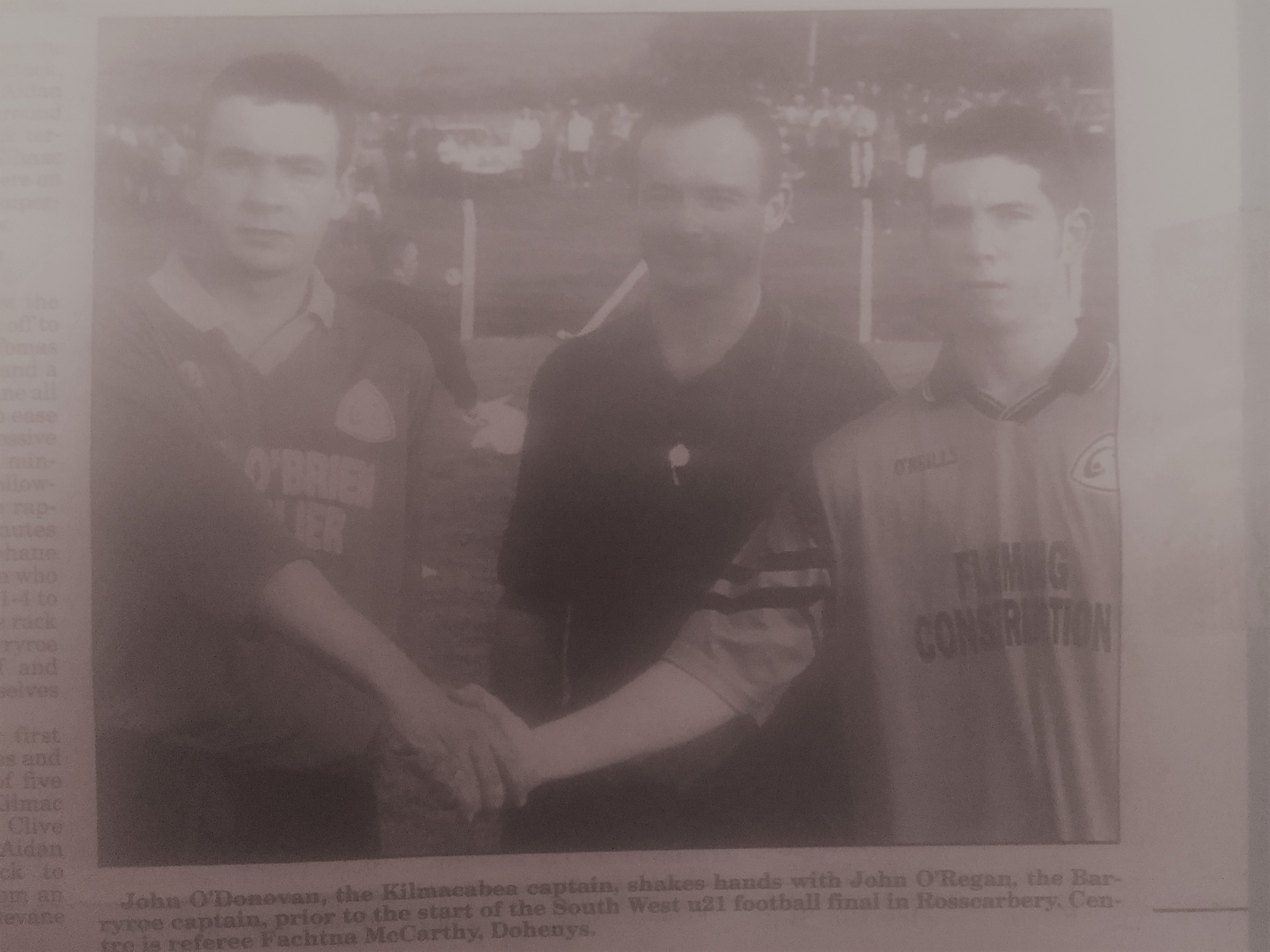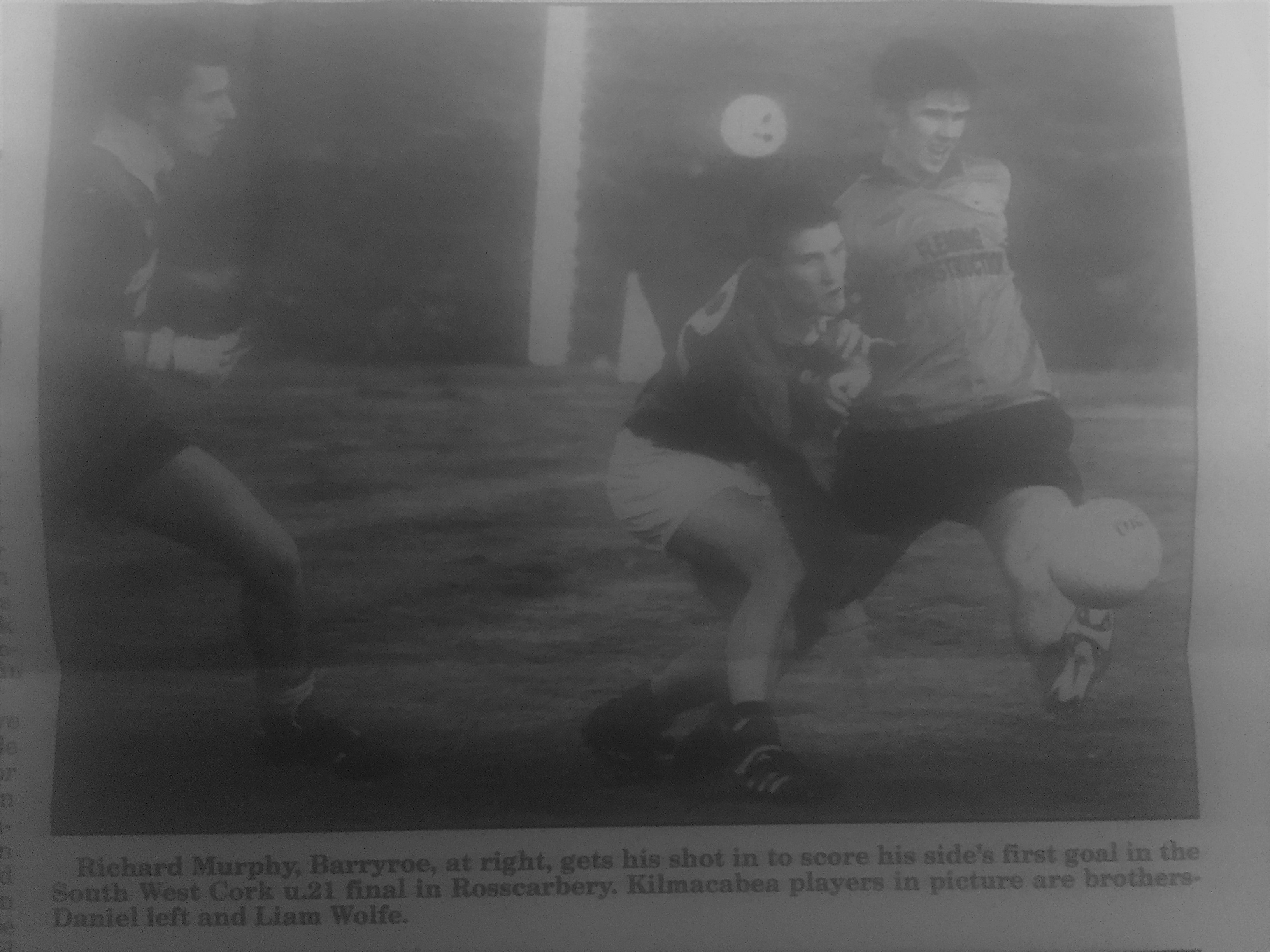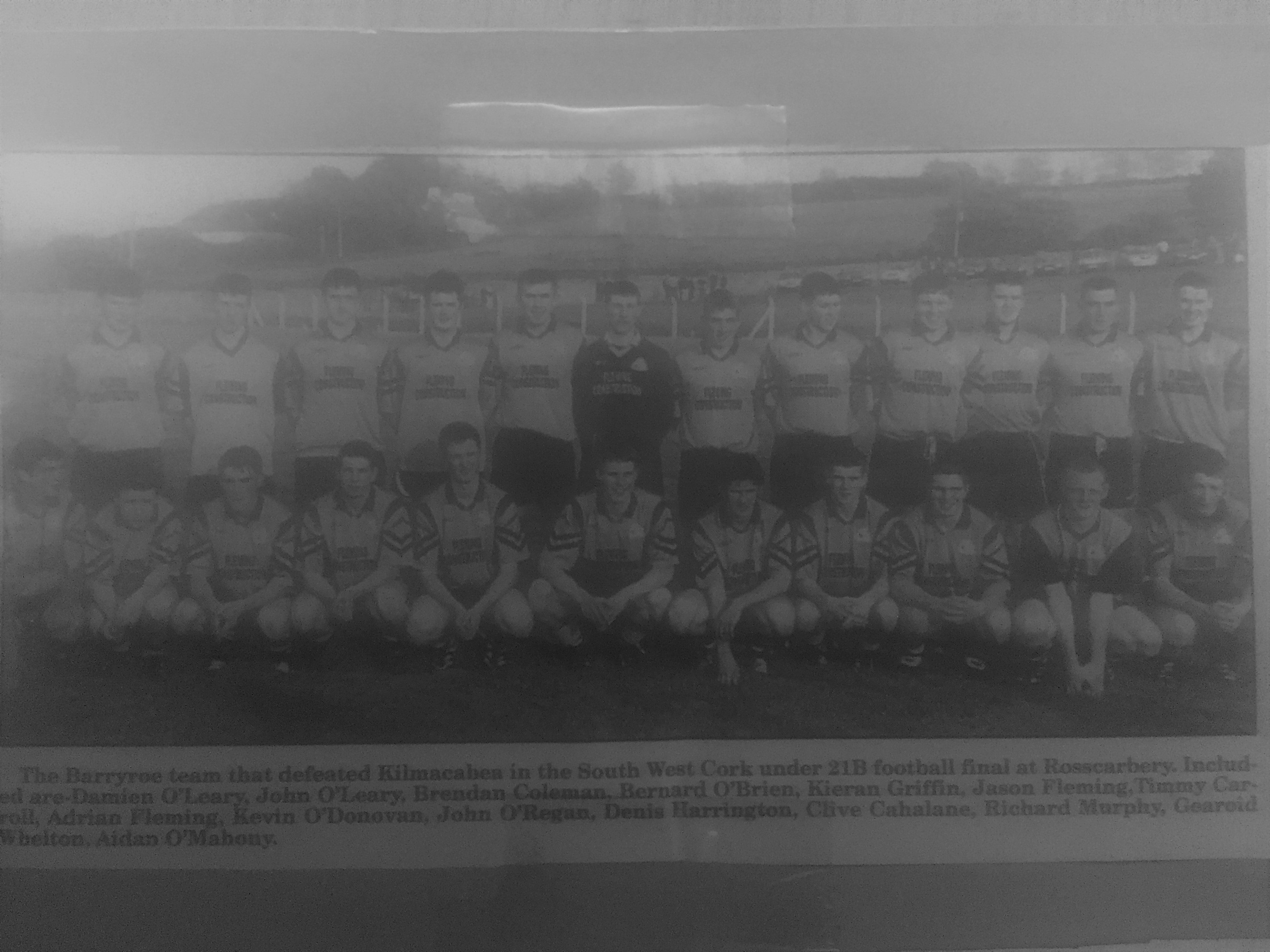 More on the Club History of Cumann Lúthchleas Gael Barra Rua can be found here