U 11 camogie team trophy win/ Ibane Minor Hurlers lose final/Missing links
20 September, 2015
Senior reporter Teresa Tobin writes......................
On Saturday, it was our fifteen U11 girl's turn to take to the pitch in a well organised blitz in Inniscarra. Our first game was against Grenagh. This was a great start to our day. a super point from Claire Dullea started us off and was followed by goals from Mira and Claire Dullea &Holly. Our backs Imelda & Ava did great to clear the ball and Ellen made a few great saves. Second half saw the Claire Dullea get a super goal from a long ball in . Game finished 4-1 - 0-0. super play midfield from Tara, Aishling & Holly ensured the pressure was kept on the Grenagh backs and Mira was unlucky not to score again.
A quick break to have a drink and snack before all to play for again against Whites Cross. The beauty of this blitz was that we had never played any of these teams before so we did not know what to expect. Barryroe started off strong with a great goal from Cliona and a fantastic point from Mira. Little did we know how important these points were going to be.. more about that later. Again the girls put huge effort into keeping pressure off our backs. The second half saw Ellen coming out of goal and boy did she do well. She scored 3 goals in the second half with help from Esther & Ellie . Claire Tobin, Lucy & Ali also played great. Again Ava & Imelda did super work in the backline. Mira got another goal and a goal from Aishling finished off the game. 6-1 - 0-0.
Our last game was our toughest against Inniscarra. this game 0-0- - 0-0, even though both sides tried hard. Nicole had a fantastic save for us which ensured it went to the wire.
Barryroe won the shield based on the number of POINTS scored. Just shows that points are as important as goals.A super day out.
Team; Tara Fleming, Aishling McKeogh, Holly Collins, Mira Collins, Ellen O'Riordan, Imelda Whelton, Cliona O'Brien, Ava McCarthy, Claire Dullea, Esther Scallan Dowd, Lucy O'Flynn, Ava McCarthy, Nicole Sweetnam. Alison McCarthy, Ellie Fleming Hand.
Some pictures from the day.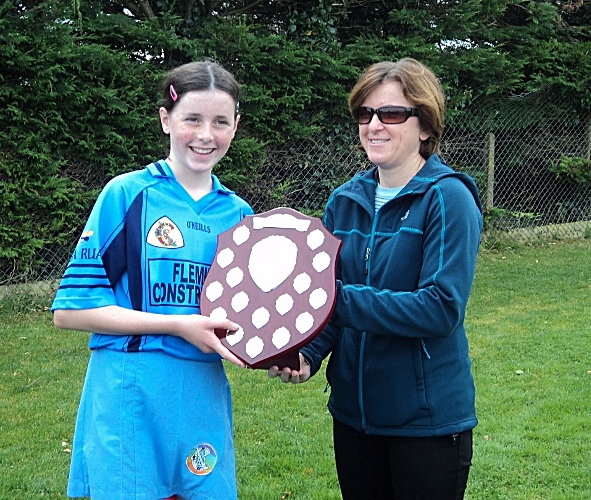 Clair receives the trophy from SponsorIrene O'Keeffe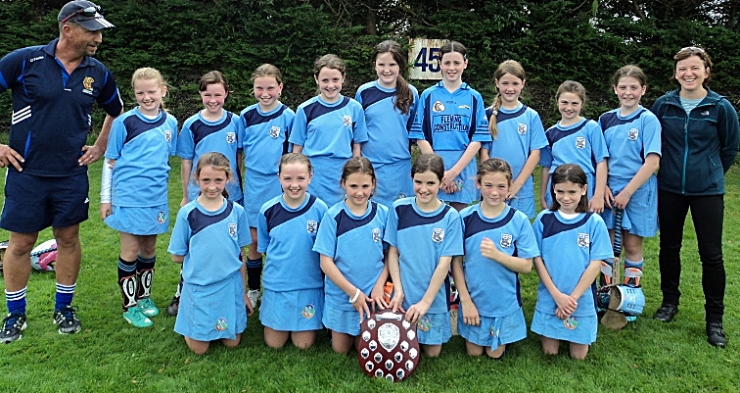 Serious team photo with Irene O'Keeffe.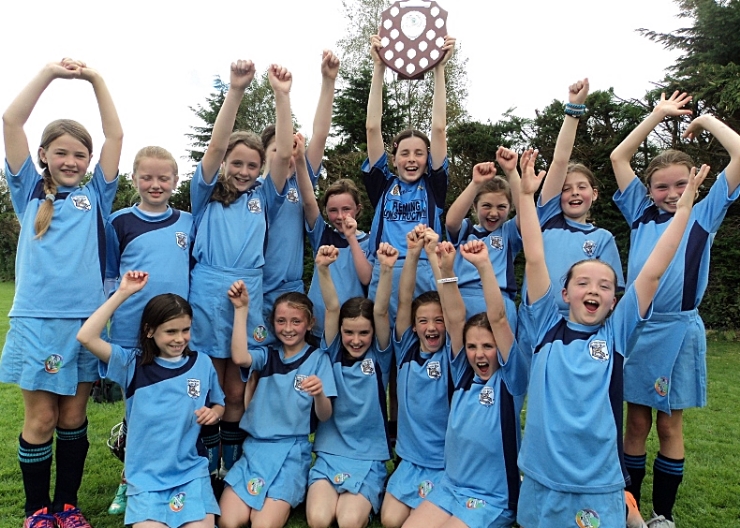 Celebration time.
============================================================================================
A young Ibane Minor hurling team, came up short in the final against Ahan Gaels.
Donal's match report in on the front page under "Latest results."
====================================================================================================
KEVIN'S KORNER
The missing links on the 1967 Barryroe team were supplied by Norman, Neil and Donal, so thanks there. The full team is;
17th September 1967 Junior 2 Football Semi Final at Burgatia, Rosscarbery.

Barryroe 1-7 O'Donovan Rossa 1-6

1 – Timothy Carroll (BARRYSCOVE)
2 – M. Motherway (JOHN BUTLERSTOWN), 3 – L. O'Donovan( LAWERENCE, BUTLERSTOWN), 4 – D. O'Sulliva(DONAL )

5 – N. Whelton,(Neilie Ballymacshoneen),6 – MJ Whelton (Mike Joe Pub DUNWORLEY/Lislevane), 7 – T.J. McCarthy (Tim Joe Ballincoursey)

8 – D . Kingston (Barryshall Timoleague), 9 – M. O'Regan ( ML. BUTLERSTOWN )

10 – Brendan O'Sullivan ,(BUTLERSTOWN/CREAMERY CROSS), 11 – Cecil Finn(BUTLERSTOWN),12 – Mick Fleming ( BOSTON MIKE ?)
13 – Denis O'Regan (DIN, BUTLERSTOWN),14 – J. O'Brien (JOHN, BAUREARACH ?),15 – J. Barry(Grange).

Scorers
Brendan O'Sullivan 0-4, J. O'Brien 0-1, Mick Fleming 1-2
Barryroe eventually lost the final to Timoleague.
Some update to the team on the website. Nellie Whelton No5 Tim Joe McCarthy Ballincoursey Timoleague No.7 Diarmuid Kingston barryshall, Timoleague No8 Johnny Barry Grange No.15
Tim Joe McCarthy Ballincourcey Timoleague Dermot Kingston Barryshall Timoleague Johnny Barry Grange Neilly Whelton Ballymacshoneen not sure about M Motherway the rest are correct