1962 A Club Reborn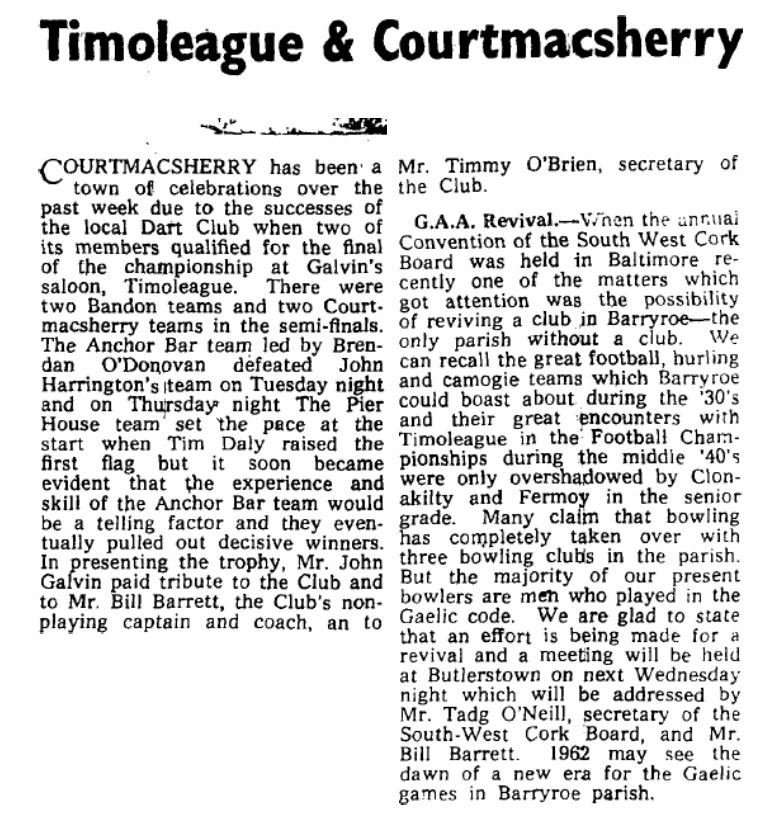 Extract from Southern Star 27.01.1962
Parish League's
In 1962 the club held a parish league with four teams; Butlerstown, Lislevane, Courtmacsherry and Ahamonister.
Butlerstown beat Lislevane in the final played in Dan Colemans field.
Butlerstown; Liam O'Sullivan, Patrick O'Sullivan, Brendan Fleming, John O'Sullivan, Ml Whelton, Neilly Whelton, John T Motherway, John Pat Fleming, Donal O Sullivan, John O'Leary, John O'Callaghan, John Regan, Denis O'Regan, Ml O'Regan, Cyril Dineen, Pat O'Sullivan, Ml O'Sullivan.
Ahamonister; Fachtna O'Donovan, Peter Long, Ned Cleary, Teddy Harrington, Bernard Harrington, John O'Mahoney, Neilly Duggan, Johnny Barry, Pat Traynor, Jim Traynor, Christy Flynn, Tim Joe McCarthy, Dermot Kingston, Timmy Harringston, Sean Hennessey.
Courtmacsherry; Micksy O'Regan, Ml Collins, Fr Eddie Collins, Fr John Collins, Denis Sexton, Nelius Sexton, John O'Brien, Timmy O'Brien, Jim Crowley, John Sexton, Jim Hodnett, Benny O'Driscoll, Colm O'Driscoll, Johnny O'Donovan.
Lislevane; Ml Joe Whelton, Vincent Sexton, Paddy Whelton, Willie Whelton, Jamsie Whelton, Nick Keohane, Ml Keohane, Denny Slyne, Jerh Madden, Jimmy Madden, Willie John Madden, Billy Santry, Ml Santry, Humphrey Coleman, Johnny Coleman, Sean Barry, Jerry O Regan, Larry O Regan, Mickey O'Sullivan, Jim Barry.
Referee in the final was Jack Madden.