Club Crest
CLUB CREST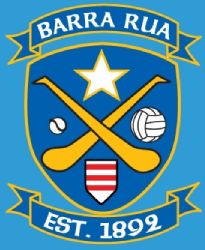 A group of club members set out in 2010 to design a new crest for Barryroe GAA club. The finished product (seen left) is now present on all the club gear, jerseys and of course, features prominently throughout this site.
The banner at the top "Barra Rua" is the present day Irish translation for Barryroe. It's origins date back to Norman times when a warrior named Red Barry had a dominating presence in the area. The shield underneath the hurleys shows the red and white colours of the Barry clan. This also features prominently on the Barryroe C-Op trademark symbol.
The banner at the foot of the crest shows the founding year of the club, 1892, making Barryroe one of the oldest clubs in West Cork.
The star above the hurleys relates to the famous "Star of the Sea" church in Barryroe parish. The star was the prominent feature on the club jerseys in the 50's and 60's.
Finally, the club colours, navy, sky blue and yellow dominate the club crest.