Saturday 19 Jul 2014

Junior A Football - Championship
Ahiohill, 20:00PM
Just as we pulled into Ahiohill, the heavens opened and it rained for the whole match.
Barryroe went into this game as underdogs. Backdoors in hurling meant little football was played since the victory over Castlehaven, back in May. The Blues however had a game plan and unlike the Cork footballers, they followed it to the letter.
Back as far as you care to go in football, back beyond the time when footballs had laces in them, two things scared the life out of the finest defenders, space and pace. It always seemed strange to me that when a goal was needed teams sent extra troops forward, thus killing their own space.
Barryroe left large areas of the Clann Na nGael half unmanned and then pacey strike runners hit that space. The trick then is to finish and finish they did. At the other end of the pitch, they squeezed the opposition, when they had the ball.
David O'Sullivan opened the scoring for Barryroe after two minutes, but the Drimoleague side had the next three points. Mike O'Brien then took centre stage, with a point, a goal and two more points, putting the Blues ahead by 1-4 to 3 pts after 15 minutes. Clann then added a point, before Kierán Hurley burst through for a well-taken goal. A Drimoleague point was answered by two from Kieran Hurley and a Mike O'Brien effort. Mark Crowley knocked over a 45 that was still rising as it crossed the bar, while Clann Na nGael finished the half with two points to leave the score at the interval at 2-8 to 0-7 in favour of the Blues.
The rain never let up as the second half got under way. Within three minutes Mike O'Brien and Kieran Hurley had extended the lead. Drimoleage had a couple of points, Kieran had one that was quickly answered, but with 20 minutes gone, the game was wrapped up. A high ball was booted into the Drimoleague box and Mark Crowley got on the end of it to fist home. The same player added a point, before Clann had a couple of consolation points, for a final score of 3-13 to 0-11.
Barryroe looked the fitter side and their commitment was faultless. I have never seen David O'Sullivan work so hard in a game, Kieran Griffen, Clive Cahalane and Jason Fleming, just seem to be getting younger. John O'Regan swept up everything that came his way, but the whole team worked their socks off, closing off zones, handing on opponents and encouraging each other.
How they managed with very little training done is unbelieveable.
Roll on the next round.
It would be unfair to single out a man of the match, as it was a complete team performance.
Special thanks to Tony McCarthy who tried to keep me, my note book and camera dry.
Some pictures from the game.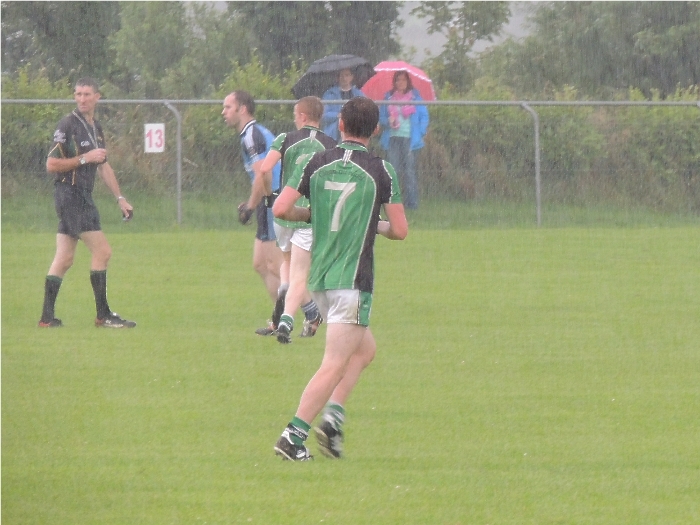 Conditions were miserable for the whole game.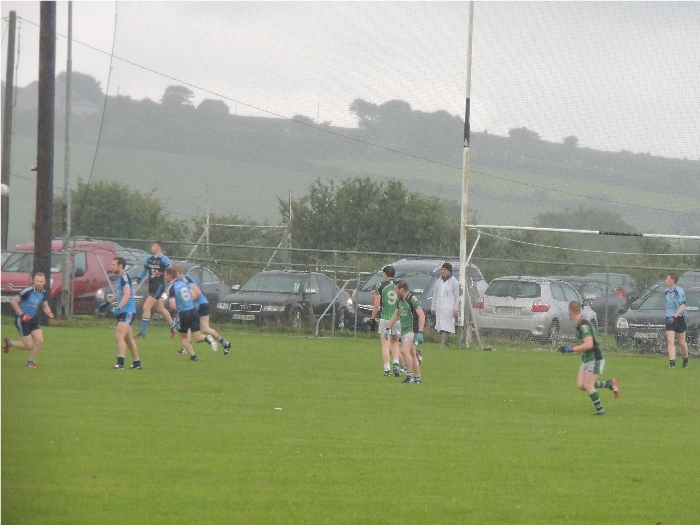 Blanket defence .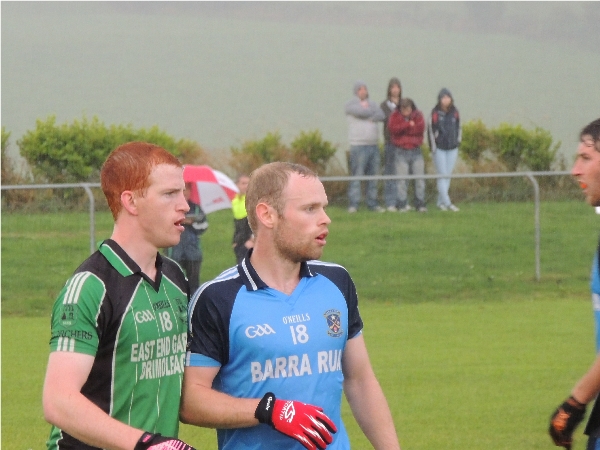 A hard working hour from Dave.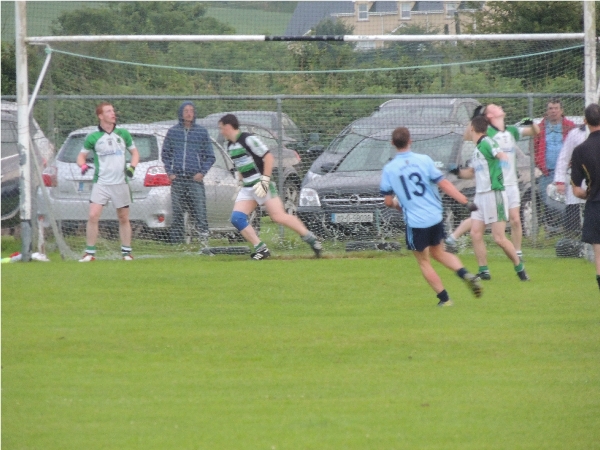 Mike knocks over a point.